Award Winning Wedding Car Hire
The Branford Elite is a brand new car which exudes the luxury and class from a bygone age. A hand built classic car that turns heads wherever it goes. The stunning look of the Branford Elite and pure elegance will capture the hearts of so many Brides and grooms. C4 Wedding Car Hire mainly wanted the Branford Elite as it is a perfect match along with our Branford Classic. We also wanted the Elite to be an elegant wedding car for mainly the Bride and Groom.
The exterior colour of our Branford Elite is Black over Old English White (Ivory). Featuring running boards, side wheel, chrome spoke wheels, white wall tyres and polished chrome headlights are all factors which makes this car stand out in a league of its own. This car has spacious cream leather interior with walnut trim. The main feature which we liked about this wedding car was the fact that the door leading to the main seating area is slightly wider than the Branford Classic. This allows a Bride to enter the car at ease and allows for any design of a wedding dress. The rear section of roof can be dropped in a matter of minutes, you can be driven to your location in comfort and have your chauffeur lower the roof on your arrival or when requested. 
How many people can the Elite seat?
The Elite will adequately seat 4no passengers which will allow 3 of a Bridal party plus the driver. There are also 2no fold down seats which can accomodate 2no children if required.
Get In Touch Or View More Images On Our Social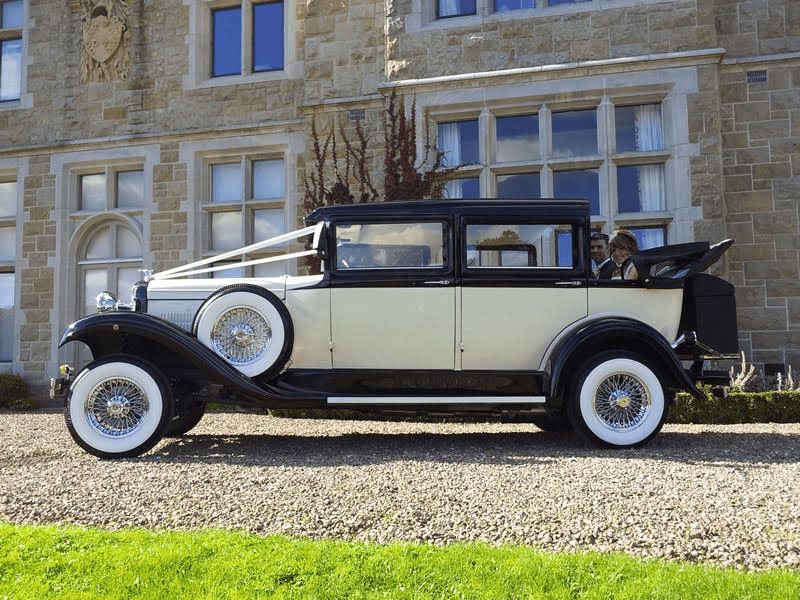 View this cars video tour below​